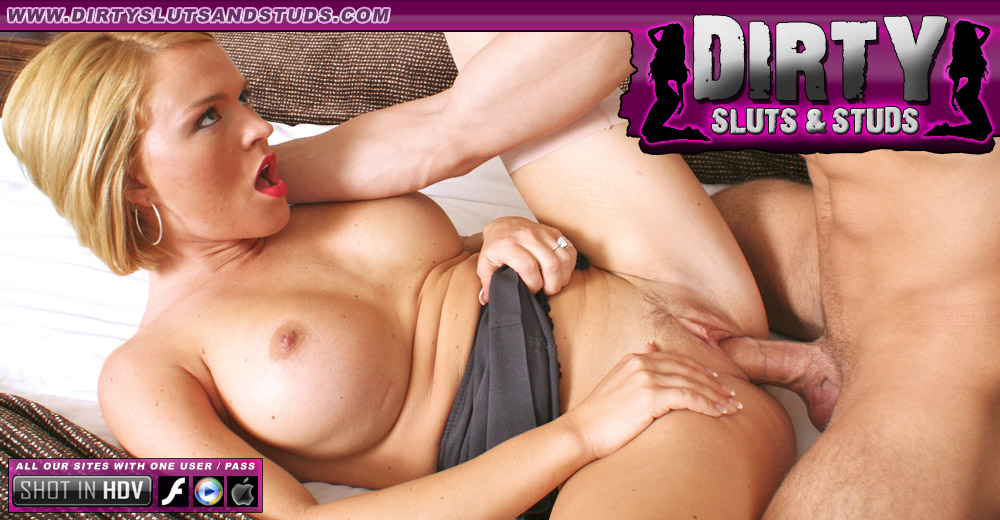 DIRTY SLUTS AND STUDS
Is a XXX site featuring todays hottest Porn Stars in 100% original hardcore action! Watch these Dirty Sluts And Studs suck and fuck in thousands of pics and multiple formats, Flash, Windows Media Video & MP4's for your mobile devices. -
JOIN NOW
A BOSS WHO LIKES TO FUCK
Starring: ALEXIS GOLDEN, JOEY BRASS

436 Pics

34 Min of Video.
Poor Gina - working for a boss like Katie Kox can be really tough, especially when Katie decides that she wants Gina's husband Joey. Katie gives Gina an ultimatum: let me fuck your husband, or fuck off and find another job! Joey doesn't want to see Gina lose her job, so he does what any good husband would do and fucks the shit out of his wife's big titted boss!

SEXUAL HEALING
Starring: ALEXIS GOLDEN, DOMENIC KANE

466 Pics

21 Min of Video.
Poor Domenic Kane has a serious sexual problem... He can''t look at hot chicks without imagining them with no clothes on. Domenic decides to go get some professional help from well known sexual therapist Katie Kox. As soon as she gets him on her couch she gets right to the issue and proceeds to administer her own special treatment.

EXECUTIVE ASS-ISTANCE
Starring: JOEY BRASS, KRISSY LYNN

616 Pics

30 Min of Video.
Krissy Lynn has decided to kick start her career by applying for an executive assistant position with an important business man. Dressed to kill in stockings, fuck me pumps, pencil skirt and a top that clearly shows off her assets, Krissy is prepared to do anything to seal the deal. She doesn't waste any time in showing the boss why she's the best slut for job.

POSITION OF THE DAY
Starring: , JYI=

497 Pics

30 Min of Video.
When Maria Bellucci got her first american job her boss was more than happy to show her the ropes. Jeff Phucksum didn't waste any time in taking advantage of this dirty slut. God bless America.

THE PUSSY WHISPERER
Starring: JOEY BRASS, HUNTER BRYCE

570 Pics

32 Min of Video.
Hunter Bryce is furious with her pet dog. No matter what she tries she can not get the beast to obey. So Hunter decides to turn to 'The Pussy Whisperer' who is an expert at taming all kinds of dogs and pussies. After demonstrating his skills the whisperer is quick to start training Hunter on how to be his bitch. Watch how quickly Hunter submits to The Pussy Whisperer.

RETAIL THERAPY
Starring: DOMENIC KANE, JENNIFER DARK

473 Pics

35 Min of Video.
Domenic Kane walks into the Dirty Hard Drive lingerie store to pick out something sexy for his girl at home and gets some top class service from horny sales assistant, Jennifer Dark.