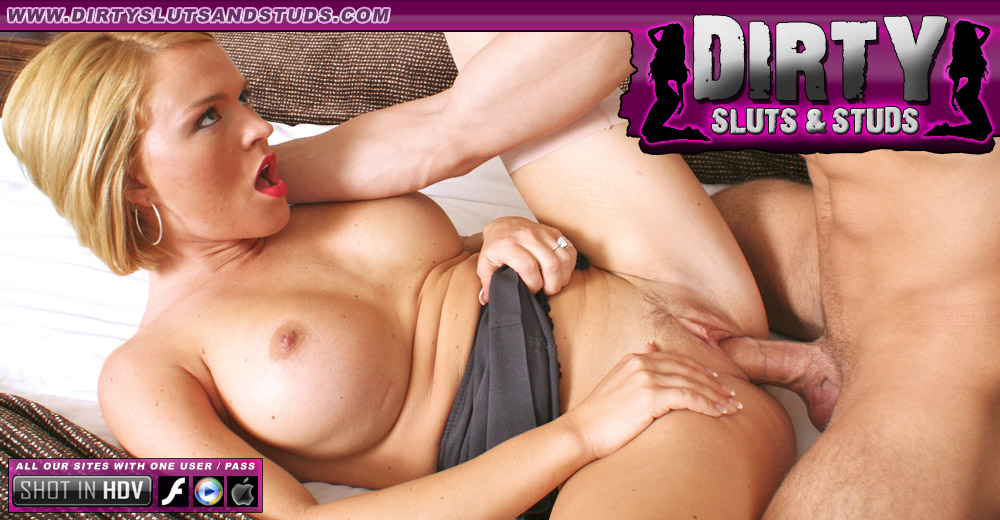 DIRTY SLUTS AND STUDS
Is a XXX site featuring todays hottest Porn Stars in 100% original hardcore action! Watch these Dirty Sluts And Studs suck and fuck in thousands of pics and multiple formats, Flash, Windows Media Video & MP4's for your mobile devices. -
JOIN NOW
PARANORMAL FUCTIVITY
Starring: ALEXIS GOLDEN, HUNTER BRYCE

372 Pics

36 Min of Video.
Big Boobs Hunter Bryce has to call a paranormal investigator after experiencing some strange happenings in her new apartment. But upon closer investigation the expert reveals the true source of the anomaly. It's actually Hunter's pussy thats causing all the problems and the only solution is to fuck her out of it. Watch Hunter's pussy gush as her paranormal demons are exorcized.

DIRTY MARTINI WITH A TWIST
Starring: DOMENIC KANE, ALEXIS GOLDEN

499 Pics

29 Min of Video.
When Heather Vahn walked into the Red Room Saloon she had her eye on a little more than just a Dirty Martini. This slutty bar fly was all about the new bartender apprentice, Domenic Kane. Domenic's boss warned him not to blow it when he stepped out and left Domenic in charge. Little did he know it would be Heather blowing Domenic within minuets of him leaving.

EXECUTIVE ASS-ISTANCE
Starring: JOEY BRASS, KRISSY LYNN

616 Pics

30 Min of Video.
Krissy Lynn has decided to kick start her career by applying for an executive assistant position with an important business man. Dressed to kill in stockings, fuck me pumps, pencil skirt and a top that clearly shows off her assets, Krissy is prepared to do anything to seal the deal. She doesn't waste any time in showing the boss why she's the best slut for job.

OPEN HOUSE
Starring: LISA ANN,

577 Pics

33 Min of Video.
Realtor Lisa Ann really knows how to hustle and seal a deal. When John Espizedo decided it was time to find a new place to live he called Lisa to help him out. After showing him around the property Lisa really started to give him the hard sell and made him an offer he couldn't refuse. She fucks him bareback in stockings and her sexy glasses like any eager sales person would. After fucking her huge tits john explodes all over them and christens his new home.

PAY BACK'S A BITCH
Starring: ALEXIS GOLDEN,

363 Pics

33 Min of Video.
Big titted Emily Parker is in big trouble. She borrowed some money from a loan shark and he's here to collect! Marty slaps her around a little which to his surprise starts to turn her on. Pay back's a bitch and this bitch starts to payback her debt in the only way she knows how.

FOREIGN AFFAIRS
Starring: DEVON LEE, ALEXIS GOLDEN

423 Pics

31 Min of Video.
Dirty hot housewife Devon Lee is only to happy to welcome her husband's buddy from out of town. Watch Devon forget about her marriage vows as she turns into a slut for some foreign dick.