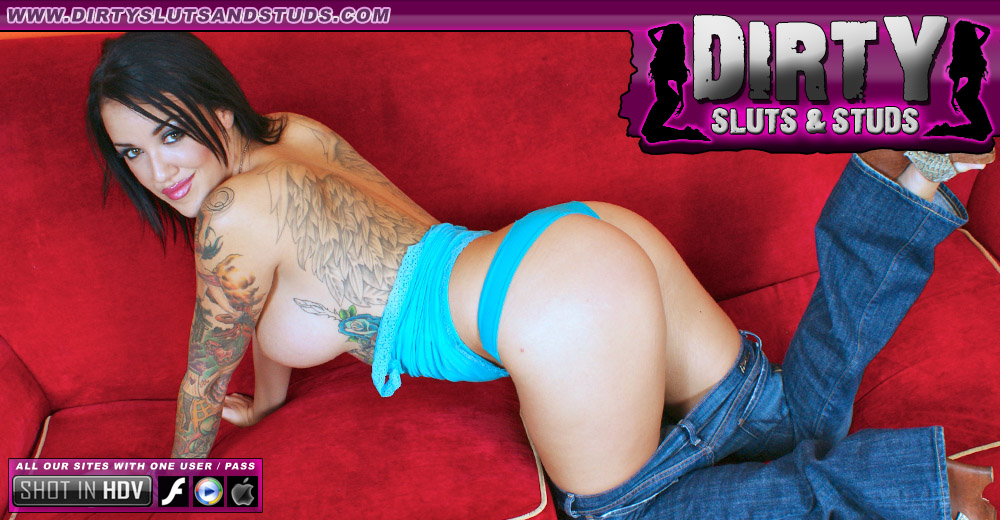 DIRTY SLUTS AND STUDS
Is a XXX site featuring todays hottest Porn Stars in 100% original hardcore action! Watch these Dirty Sluts And Studs suck and fuck in thousands of pics and multiple formats, Flash, Windows Media Video & MP4's for your mobile devices. -
JOIN NOW
TATTOO SLUTS
Starring: MOXXIE MADDRON, ALEXIS GOLDEN

266 Pics

21 Min of Video.
Moxxie Maddron and Katie Kox are working their shift as Tattoo artists at the Dirty Hard Drive Tattoo Parlor when Katie dares Moxxie to fuck the next guy who walks in just to prove how much of a tattoo slut she is.

POSITION OF THE DAY
Starring: , JYI=

497 Pics

30 Min of Video.
When Maria Bellucci got her first american job her boss was more than happy to show her the ropes. Jeff Phucksum didn't waste any time in taking advantage of this dirty slut. God bless America.

PAY BACK'S A BITCH
Starring: ð''ð"",

363 Pics

33 Min of Video.
Big titted Emily Parker is in big trouble. She borrowed some money from a loan shark and he's here to collect! Marty slaps her around a little which to his surprise starts to turn her on. Pay back's a bitch and this bitch starts to payback her debt in the only way she knows how.

DIRTY MARTINI WITH A TWIST
Starring: DOMENIC KANE, ALEXIS GOLDEN

499 Pics

29 Min of Video.
When Heather Vahn walked into the Red Room Saloon she had her eye on a little more than just a Dirty Martini. This slutty bar fly was all about the new bartender apprentice, Domenic Kane. Domenic's boss warned him not to blow it when he stepped out and left Domenic in charge. Little did he know it would be Heather blowing Domenic within minuets of him leaving.

ART MAJOR WOOD
Starring: ALEXIS GOLDEN, JOEY BRASS

487 Pics

30 Min of Video.
Art student Joey Brass invites Katie Kox over to his studio to model for his latest masterpiece. Joey soon realizes that in order to properly paint his subject he must truly understand Katie's body. And for Joey to properly understand Katie's body he must feel every inch of it. Katie being the little slut that she is completely agrees and fucks joey like a whore until she drains his nuts.

FOREIGN AFFAIRS
Starring: DEVON LEE, ALEXIS GOLDEN

423 Pics

31 Min of Video.
Dirty hot housewife Devon Lee is only to happy to welcome her husband's buddy from out of town. Watch Devon forget about her marriage vows as she turns into a slut for some foreign dick.