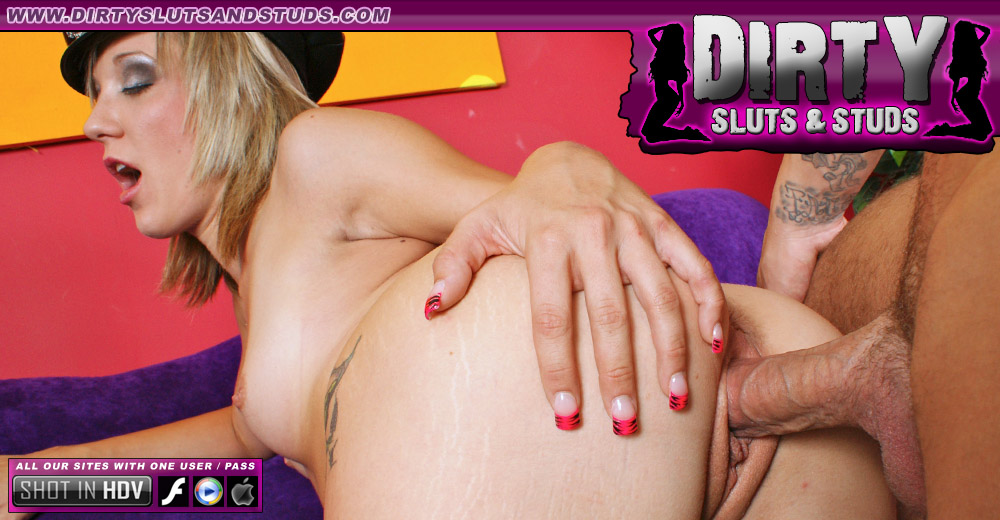 DIRTY SLUTS AND STUDS
Is a XXX site featuring todays hottest Porn Stars in 100% original hardcore action! Watch these Dirty Sluts And Studs suck and fuck in thousands of pics and multiple formats, Flash, Windows Media Video & MP4's for your mobile devices. -
JOIN NOW
POSITION OF THE DAY
Starring: , JEFF PHUCKSUM

497 Pics

30 Min of Video.
When Maria Bellucci got her first american job her boss was more than happy to show her the ropes. Jeff Phucksum didn't waste any time in taking advantage of this dirty slut. God bless America.

TATTOO SLUTS
Starring: MOXXIE MADDRON, ALEXIS GOLDEN

266 Pics

21 Min of Video.
Moxxie Maddron and Katie Kox are working their shift as Tattoo artists at the Dirty Hard Drive Tattoo Parlor when Katie dares Moxxie to fuck the next guy who walks in just to prove how much of a tattoo slut she is.

SEXUAL HEALING
Starring: KATIE KOX, DOMENIC KANE

466 Pics

21 Min of Video.
Poor Domenic Kane has a serious sexual problem... He can''t look at hot chicks without imagining them with no clothes on. Domenic decides to go get some professional help from well known sexual therapist Katie Kox. As soon as she gets him on her couch she gets right to the issue and proceeds to administer her own special treatment.

PAY BACK'S A BITCH
Starring: EMILY PARKER,

363 Pics

33 Min of Video.
Big titted Emily Parker is in big trouble. She borrowed some money from a loan shark and he's here to collect! Marty slaps her around a little which to his surprise starts to turn her on. Pay back's a bitch and this bitch starts to payback her debt in the only way she knows how.

RETAIL THERAPY
Starring: DOMENIC KANE, JENNIFER DARK

473 Pics

35 Min of Video.
Domenic Kane walks into the Dirty Hard Drive lingerie store to pick out something sexy for his girl at home and gets some top class service from horny sales assistant, Jennifer Dark.

THE PLUMBER
Starring: JOEY BRASS, SIERRA SKYE

264 Pics

26 Min of Video.
Big tits Sierra Skye has a serious issue. Her leaky faucet is driving her bananas. Luckily a friend recommended a nice young plumber to come and sort her out. This plumber may have fixed one leak but he sure left her wet somewhere else.