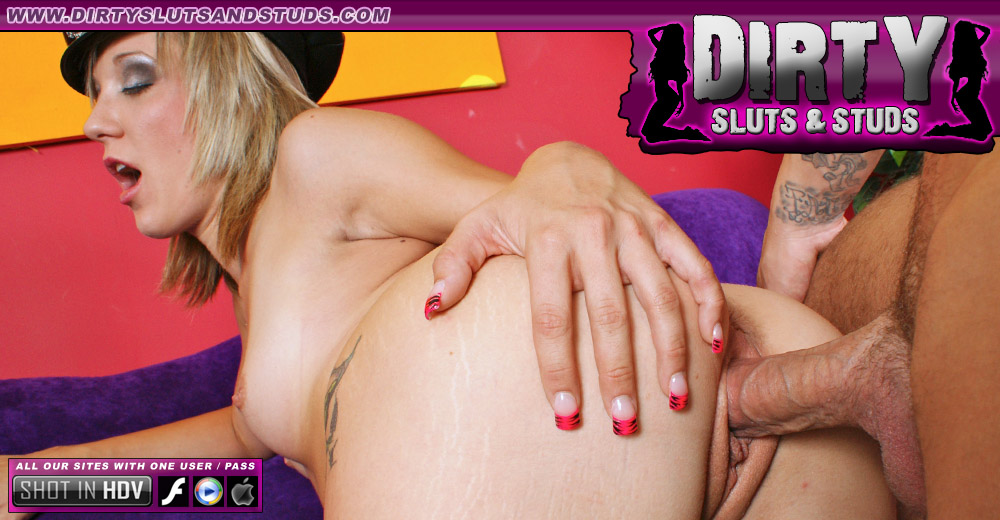 DIRTY SLUTS AND STUDS
Is a XXX site featuring todays hottest Porn Stars in 100% original hardcore action! Watch these Dirty Sluts And Studs suck and fuck in thousands of pics and multiple formats, Flash, Windows Media Video & MP4's for your mobile devices. -
JOIN NOW
ART MAJOR WOOD
Starring: KATIE KOX, JOEY BRASS

487 Pics

30 Min of Video.
Art student Joey Brass invites Katie Kox over to his studio to model for his latest masterpiece. Joey soon realizes that in order to properly paint his subject he must truly understand Katie's body. And for Joey to properly understand Katie's body he must feel every inch of it. Katie being the little slut that she is completely agrees and fucks joey like a whore until she drains his nuts.

BED SALE
Starring: KATIE KOX, MARCUS LONDON

368 Pics

24 Min of Video.
Katie Kox and her husband decided its time for a new bed. So after finding a good deal in the local paper Katie decides to go on her own to take a look. while checking out the bed the seller is checking her out and it's not long before Marcus London offers Katie the opportunity to test out the bed. Being the good slut wife that she is how could she refuse?

SEXUAL HEALING
Starring: KATIE KOX, DOMENIC KANE

466 Pics

21 Min of Video.
Poor Domenic Kane has a serious sexual problem... He can''t look at hot chicks without imagining them with no clothes on. Domenic decides to go get some professional help from well known sexual therapist Katie Kox. As soon as she gets him on her couch she gets right to the issue and proceeds to administer her own special treatment.

TATTOO SLUTS
Starring: MOXXIE MADDRON, ALEXIS GOLDEN

266 Pics

21 Min of Video.
Moxxie Maddron and Katie Kox are working their shift as Tattoo artists at the Dirty Hard Drive Tattoo Parlor when Katie dares Moxxie to fuck the next guy who walks in just to prove how much of a tattoo slut she is.

THE PUSSY WHISPERER
Starring: JOEY BRASS, HUNTER BRYCE

570 Pics

32 Min of Video.
Hunter Bryce is furious with her pet dog. No matter what she tries she can not get the beast to obey. So Hunter decides to turn to 'The Pussy Whisperer' who is an expert at taming all kinds of dogs and pussies. After demonstrating his skills the whisperer is quick to start training Hunter on how to be his bitch. Watch how quickly Hunter submits to The Pussy Whisperer.

PAY BACK'S A BITCH
Starring: EMILY PARKER,

363 Pics

33 Min of Video.
Big titted Emily Parker is in big trouble. She borrowed some money from a loan shark and he's here to collect! Marty slaps her around a little which to his surprise starts to turn her on. Pay back's a bitch and this bitch starts to payback her debt in the only way she knows how.