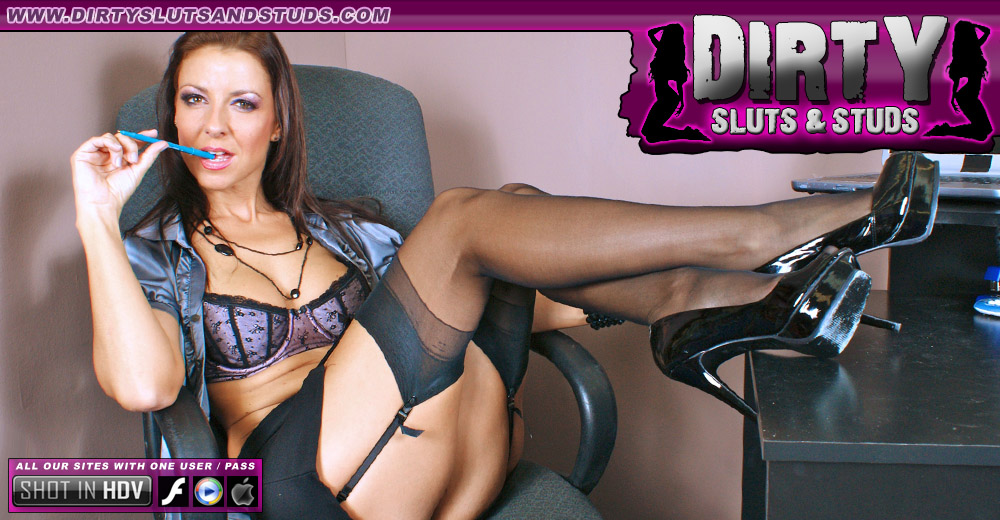 DIRTY SLUTS AND STUDS
Is a XXX site featuring todays hottest Porn Stars in 100% original hardcore action! Watch these Dirty Sluts And Studs suck and fuck in thousands of pics and multiple formats, Flash, Windows Media Video & MP4's for your mobile devices. -
JOIN NOW
PAY BACK'S A BITCH
Starring: ð''ð"",

363 Pics

33 Min of Video.
Big titted Emily Parker is in big trouble. She borrowed some money from a loan shark and he's here to collect! Marty slaps her around a little which to his surprise starts to turn her on. Pay back's a bitch and this bitch starts to payback her debt in the only way she knows how.

OPEN HOUSE
Starring: LISA ANN,

577 Pics

33 Min of Video.
Realtor Lisa Ann really knows how to hustle and seal a deal. When John Espizedo decided it was time to find a new place to live he called Lisa to help him out. After showing him around the property Lisa really started to give him the hard sell and made him an offer he couldn't refuse. She fucks him bareback in stockings and her sexy glasses like any eager sales person would. After fucking her huge tits john explodes all over them and christens his new home.

SEXUAL SURVEY
Starring: JOEY BRASS, KIERA KING

367 Pics

29 Min of Video.
Joey has a new job of interviewing the public for a sexual survey. Lucky for him Kiera King was feeling extra horny that day and invited Joey to take the survey one step further...

TATTOO SLUTS
Starring: MOXXIE MADDRON, ALEXIS GOLDEN

266 Pics

21 Min of Video.
Moxxie Maddron and Katie Kox are working their shift as Tattoo artists at the Dirty Hard Drive Tattoo Parlor when Katie dares Moxxie to fuck the next guy who walks in just to prove how much of a tattoo slut she is.

A BOSS WHO LIKES TO FUCK
Starring: ALEXIS GOLDEN, JOEY BRASS

436 Pics

34 Min of Video.
Poor Gina - working for a boss like Katie Kox can be really tough, especially when Katie decides that she wants Gina's husband Joey. Katie gives Gina an ultimatum: let me fuck your husband, or fuck off and find another job! Joey doesn't want to see Gina lose her job, so he does what any good husband would do and fucks the shit out of his wife's big titted boss!

PARANORMAL FUCTIVITY
Starring: ALEXIS GOLDEN, HUNTER BRYCE

372 Pics

36 Min of Video.
Big Boobs Hunter Bryce has to call a paranormal investigator after experiencing some strange happenings in her new apartment. But upon closer investigation the expert reveals the true source of the anomaly. It's actually Hunter's pussy thats causing all the problems and the only solution is to fuck her out of it. Watch Hunter's pussy gush as her paranormal demons are exorcized.